Whew! Well, as many of you may know, I finally made it home from my sailing adventure of the Leeward Islands.  There were multitudes of setbacks along the way, and one of them was no wifi to update this blog (which in comparison, was the absolute smallest crisis of all). That having been said, I would like to continue to post many of the writings I did throughout the journey, and with all the horrific weather and mayhem that took place, this particular entry seemed the best place to start :::::
What's In a Name?  July 2, 2015
"What is in a name?  That which we call a rose by any other name would smell as sweet." This famous line from Shakespeare might apply to flowers, lovers, or even your justification for a knock-off designer handbag, but I'm not so sure boat owners would agree.  You see, boat owners think long and hard about the names of their boats – almost as if its and extension of self.  In the last two weeks, I have seen multitudes of boat names, and it seems they are falling into a reoccurring set of categories.  For example:
There are the boats named after women.  Perhaps its true love, or the one that got away, or maybe naming it after her was just the bargaining tool with his spouse to get the boat in the first place.  Just to name a few, I have passed the Hannah B., Miss K, Maria 3, Jema Joy, and the Miss Diane.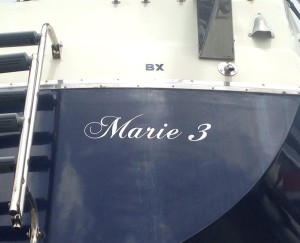 On the flip side, there are the he-man boat names, where clearly there was no female involvement whatsoever:  Enigma, Mustang, Whiplash, Qwest, Citadel, Now or Never, and The Vendetta.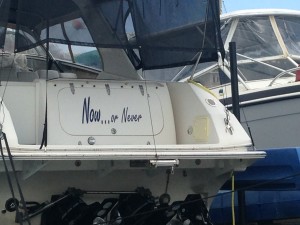 There are plenty of folks out there paying homage to the necessary powers of wind and water: Windborne, Windchyme II, Windspirit, Spindrift, Sea Boss, Sea Sea's, Sea Marva, and of course FantaSea.  There is also the category of those happy to be living the Caribbean Dream.  Boats with names like Calypso, Jolly Mon, Coconuts, Jamann, Kinja, and Mango, all just kind of make you smile.
Catamaran owners in particular tend to pledge their affection for their choice of multihull, with names like Cat-A-Lyst, CatAtude, Kitty Cat, CatCanDo, and Catatonic.
 And then, in a category all on her own, is my very own home away from home:
  S/V Segue.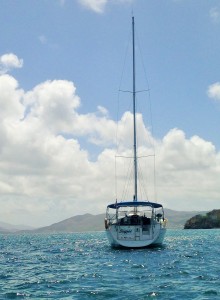 For those of you who do not know,
S/V stands for Sailing Vessel,
She is a Jenneau, a french monohull, and
Her name is pronounced Seg-way.
(She came with her name from her previous owner, and neither she, nor the spelling of her name, should in any way be confused with scooter-based park police.)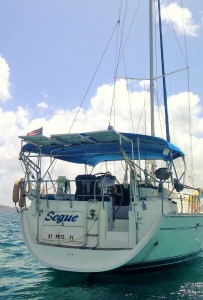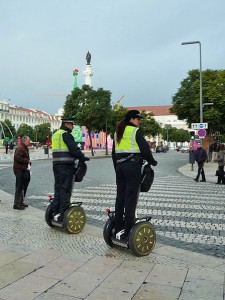 SEGUE by definition is a seamless transition.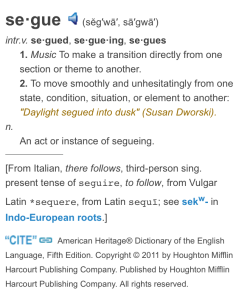 Whether in music, conversation, or perhaps even in life, it implies that some kind of notable change is taking place.  And indeed one has.  At the beginning of this trip, just under three short weeks ago, I thought of this all as a "vacation."  Since then, and to summarize in a mere sentence or two, we have faced less than ideal and highly unusual weather conditions for this time of year in the Eastern Caribbean.  We have dealt with up to 50 mph gusts and 20′ seas, with rains and heavy clouds that have hindered my much anticipated all-over tan.  We have encountered endless beds of Sargasso that should have been gone months ago, and have suffered disheartening damages to a boat who has endured so much in such a short amount of time. (More on that in a future post.)
As you can imagine, all of this was initially an enormous shock to my system.  I am used to the close-to-idyllic weather and water of Key West, Florida, and so when people suggested I call an end to my vacation, I did just that. But instead flying home early, I ended my vacation in a different way.  I stopped calling it a vacation.  I had a transition, or a segue of my very own.  I am now calling it an adventure.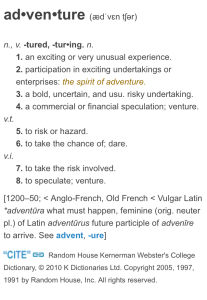 All of this is new, and challenging, and not necessarily pleasant.  In fact, some of it has been downright terrifying.  But I am not a quitter (thanks Dad), and so now I am facing all of this with a new spirit.  I am not letting myself give in to momentary frustrations or fear, and I'm now thinking of all of this as if I'm on the TV show Survivor. (The early seasons when times where tough, and the challenges were no walk in the park.) And while I may not win a million dollars for making it to the end of the month, I think I may get something much more valuable in the long run.
Catch ya tomorrow friends…  🙂
Catch all of Act 2 Scene 2 in Romeo and Juliet here.
And btw, there were a few random boat names that didn't fit into any category that I really liked:  Salt Whistle, Mixed Bag 2, and my absolute VERY favorite: Edward I Pancake. (Someday Edward Pancake will be featured in a children's book of mine – you can bet on that!)